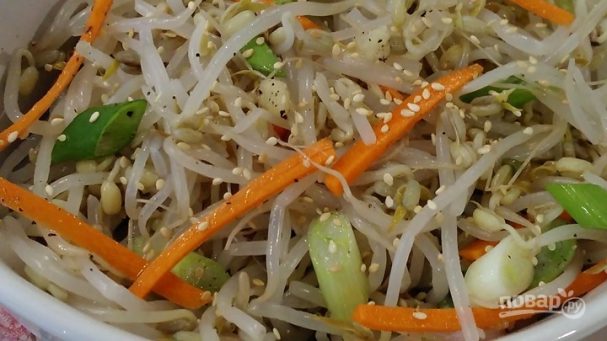 The recipe is a delicious salad with bean sprouts mash. Wholesome, low-calorie and delicious salad perfect for a light snack before the main meal.
Description of preparation:
The unusual name of the dish will not go unnoticed! Describe how to prepare bean sprouts mash, read carefully, prepare and get the treat and give it to your loved ones. The most useful dish, very light and low in calories. Perfect for any time of year, weather and mood. And its appetizing appearance and bright colors will give the dish more spice! Start cooking faster and get positive emotions from the taste and appearance of our dishes!
Ingredients:
Water — 400 Ml
The bean sprouts mung — 0.5 Kg
Carrots — 1 Piece
Green onions — 1 Bunch
Sesame oil — 1 teaspoon
Garlic crushed — 1 teaspoon
Salt — 1/2 Tea spoon
Ground pepper — 1/4 teaspoons
Sesame seeds — 1/4 teaspoons
Servings: 4
How to cook "the bean Sprouts mash"
1. Fine julienne cut the carrot, as for Korean carrot.
2. Finely chop green onions, mix with the carrot, pour some water, cover with a lid and sent in the microwave for 30 seconds. You then need to drain the water.
3. Finely slice the sprouts and combine with carrot and onion, mix well.
4. Add sesame oil, salt and pepper, garlic and sesame seeds. Mix everything. Our dish is ready. Bon appetit!