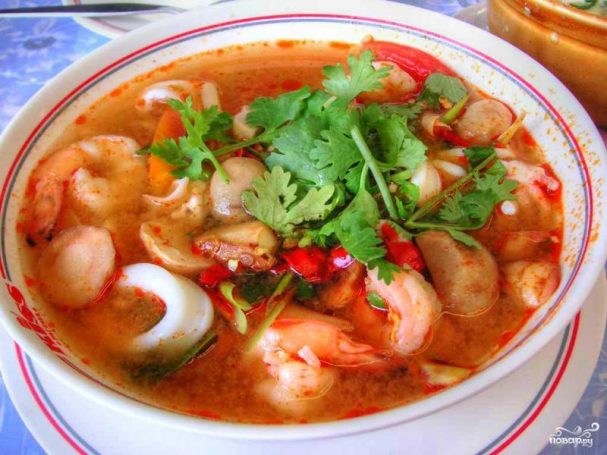 The recipe of Thai chicken soup, coconut milk, shrimp, mushrooms, lemon, chili, garlic and ginger. Soup That KXA is the business card of Asian cuisine.
Description of preparation:
Preparing soup based on chicken broth with mushrooms, lemon and shrimp. The dish has a pronounced sweet-tangy flavor. Preparation: Heat the oil in a frying pan. Add chopped garlic and fry for a few seconds. Put aside. Add the thinly sliced chili and fry. Remove the pan off the fire. In a blender or food processor mix the garlic and chilli until smooth. Grate the lemon zest on a fine grater and squeeze lemon juice. Grate the ginger on a fine grater. Add to the pan the lemon zest, lemon juice, ginger, sugar and a mixture of chili-garlic. Mix well and cook on a low heat until the mixture is homogenous. You'll have a pasta – based soup. In saucepan, bring chicken broth to a boil. Pour coconut milk and add cooked pasta. Stir, bring to boil and cook 2 minutes, stirring constantly. Add the coarsely chopped mushrooms, prawns and cream. Boil the soup for 2-3 minutes. Turn off the heat and let the soup stand for a few minutes.
Ingredients:
garlic — 5 Cloves
large chili pepper — 2 Pieces
vegetable oil — 2 tbsp. spoon
lemon, zest of — 1 Piece
piece of ginger 3 cm — 1 Piece
sugar — 1 tbsp. spoon
lemon juice — 2 tbsp. spoon
chicken broth — 400 Ml
coconut milk — 400 Ml
peeled shrimp — 450 Grams
mushrooms — 200 Grams
10%-nykh of cream — 200 Grams
Servings: 3-4