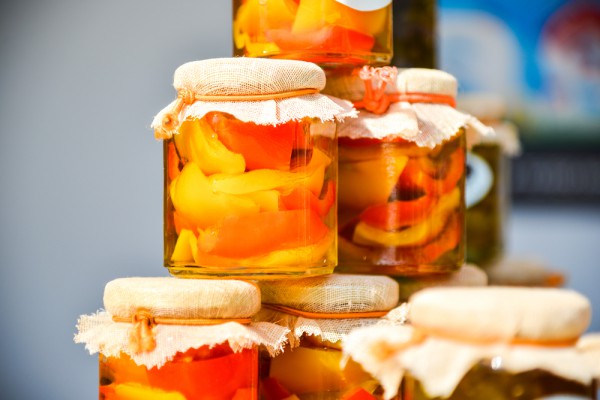 Pepper in tomato juice is a very popular and tasty salad, canned for the winter.
Ingredients
sweet bell pepper: 4 kg
tomato juice: 1.5 l
sunflower oil: 200 ml
vinegar 9%: 100 ml
sugar: 100 g
coarse salt: 1 tbsp. with slide
60 min.
In September kept pace with lots of vegetables and fruits, and it is time to think over their billets for the winter. One of the most popular blanks I think sweet pepper, popularly referred to as "Bulgarian".
Pepper for the winter can be prepared in different ways: whole, slices, stuffed, mixed with other vegetables, in a salad or Lecho. Cooking recipes bell peppers for the winter, there are more than a dozen. Basically it is marinated, and the marinade except for the vinegar, you can use honey, sunflower oil.
We offer the original recipe harvesting of pepper in tomato juice. Harvesting is done pretty quickly, most of the time is spent on cleaning the main ingredient, and the dish cooks in just 20 minutes.
By the way, it is necessary to use a dense fruit of any size, because the vegetable will be cut into wedges.
Cooking
Wash the pepper, remove the core and seeds, coarsely chop.
Mix in a saucepan the tomato juice, oil, salt and sugar.
Bring to a boil stirring constantly.
Reduce heat, add pepper, gradually stir in the vinegar.
Cook over moderate heat for a quarter of an hour.
Pour into sterilized jars, close with sterilized lids.