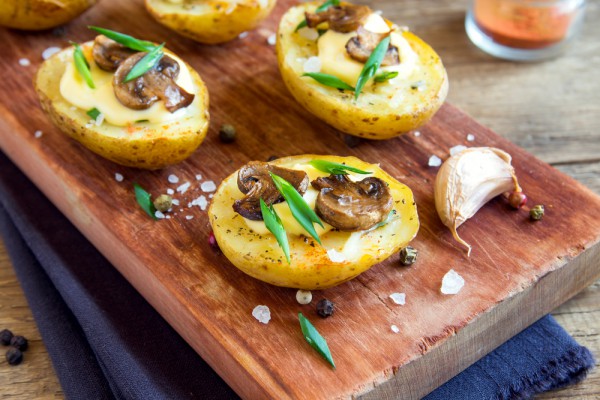 Cooking potato boats in the oven stuffed with roasted mushrooms and cheese.
Ingredients
potatoes: 7 PCs.
butter: 50 g
mushrooms: 500 g
onions: 1 PC.
flour: 1 tablespoon
cream: 200 ml
cheese: 150 g
salt, pepper: to taste
Cooking time: 90 min | servings: 7 servings
1. The mushrooms and onions finely chop, fry in butter. Add salt and pepper. Add the flour and mix quickly. Pour the cream and cook, stirring occasionally, 5 minutes.
2. Potatoes wash and bake in foil until soft. Cut in half and scrape the pulp with a spoon to get the boat.
3. Fill potato halves with mushroom filling, sprinkle with grated cheese.
4. Bake in a preheated 200 With the oven for 15-20 minutes, until cheese is browned. Serve the stuffed potatoes hot, optional garnish with slices of fried mushrooms and green onions.