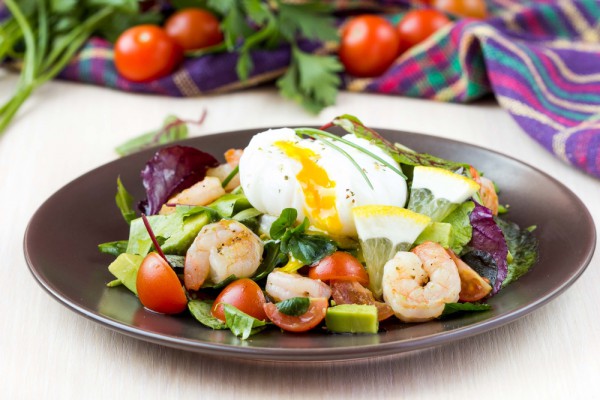 Beautiful and delicious salad of summer vegetables with avocado, grilled prawns and poached egg.
Ingredients
large shrimp: 2 handfuls
avocado: 0.5.
salad mix: 4 handfuls
tomatoes: 2 handfuls
eggs: 2 pieces
salt, pepper: to taste
olive oil: 4 tbsp
lemon juice: 1 tbsp
chives: for decoration
lemon wedges: for decoration
Cooking time: 30 min | servings: 2 servings
1. Shrimp defrosted, clean and wash
2. In a pan heat 2 tbsp olive oil and fry the prawns for 2-3 minutes. Season with salt and pepper.
3. Avocado peel and remove the seeds. Cut the flesh into cubes.
4. Cherry tomatoes wash and cut into 4 parts.
5. Salad mix wash and dry.
6. In a Cup put plastic wrap, grease with vegetable oil and break in the egg. To raise the edges and tie them, trying to make the film hit as little as possible air. To bind to the chop-a-stick or a long spoon. Drop into a pot of boiling water so that the egg doesn't touch the bottom. Cook for 3-4 minutes. Carefully take the finished egg from the film. Repeat with the remaining egg.
7. Beautifully laid out on two plates all salad ingredients. Season with salt and pepper, sprinkle with lemon juice and remaining olive oil. Put the poached egg and season with salt and decorate with chives and lemon wedges.