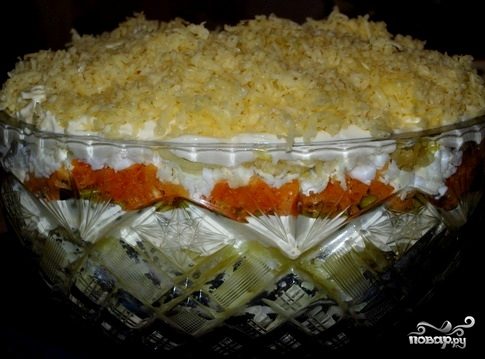 Another delicious salad for every day or for the holiday table, all the ingredients in it is quite simple and economical, but together they give a very nice combination, try it out.
Description of the preparation:
If you have soon the holiday, I offer you apart from all the rest of the dishes to cook a salad made of salmon and potatoes at home. It not only will look good on the table, but will delight guests with its great taste. In addition to the basic ingredients: salmon, vegetables, eggs and cheese – we add the bullseye, which will give the salad a special flavor. In General, this simple recipe salad salmon and potatoes will definitely bring some variety to your holiday menu.1) so, first we peel the onions and cut it into small, three carrots on a fine grater, cheese is also three, but on a coarse grater.2) the Apple wash, cut out the core, cut away the peel and grate the Apple on a coarse grater.3) boil Potatoes in their skins until tender, cooled, peeled and three on a coarse grater. Also the eggs boil and grate on a grater.4) Now open the can of salmon, spread it on the bottom of the salad bowl and mash fish with a fork, put on top of the onions evenly, and it grated potato, this layer lubricates mayonnaise. Then comes the canned peas, then a layer of carrots, then grated eggs and then top it a layer of Apple, we also grease with mayonnaise.5) Sent our salad for about 3 hours in the refrigerator that he thoroughly soaked, and then served to the table.All a pleasant appetite!
Ingredients:
Canned salmon — 340 Grams (in its own juice)
Potatoes — 3-4 Pieces
Carrots — 3 Pieces
Egg — 2 Pieces
Onion — 1 Piece
Apple — 1 Piece
Cheese — 60 Grams
Canned green peas — 300 Grams
Mayonnaise – to taste
Number of servings: 6-8