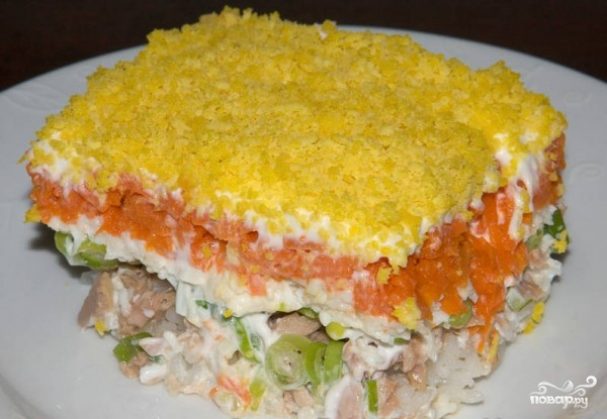 Most often this dish is served on winter holidays – New year, for example. The salad looks very bright and will decorate your celebration. And ease of preparation of salad will please every owner.
Description of preparation:
The recipe of salad from SCAD resembles the widely known salad Soviet times under the name "Mimosa". But unlike the "Mimosa" in our salad instead of potatoes and onions – rice and green onions. How to make horse mackerel salad superficially attractive beautiful at your discretion. You can decorate with greens, fresh vegetables. I just decorate with a sprig of dill or parsley – because the yolks by themselves create the effect of sunshine on the plate and on a cold winter evening on your table will be a bright spot. A delicious holiday to you!
Ingredients:
Canned mackerel in oil or in own juice. — 250-300 Grams (Canned mackerel can be replaced and the mackerel hot smoked, it will give a spicy flavor to the salad.)
Rice — 0.5 Cups
Eggs — 5 Pieces
Green onions — 150 Grams
Carrots — 4 Pieces
Salt — 1 to taste
Ground black pepper — 1 Pinch
Mayonnaise — 2 Cups
Servings: 8
How to prepare "Salad horse mackerel"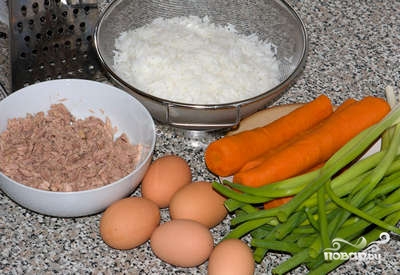 First prepare all the ingredients. Boil eggs, carrots, rice and cool it down . Wash the onion. If you have a salad canned mackerel – canned mash contents with a fork, pre-drain the excess juice or oil. If the mackerel smoked – clear it from the skin and bones and cut into small pieces.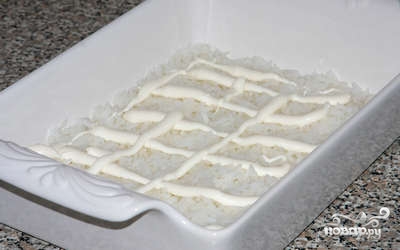 Take a deep bowl and coat the bottom with a thick layer of mayonnaise and spread on top of cooked rice. The top layer of rice promazhem mayonnaise.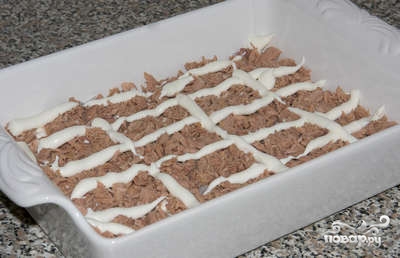 On a layer of rice evenly spread our fish and again grease with mayonnaise. But a layer of mayonnaise at this stage should not be too thick. The fish we did not dry and fat in it already.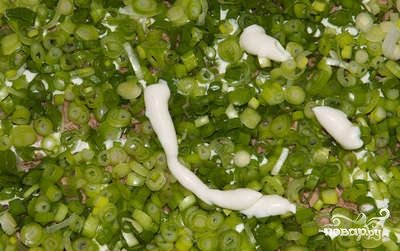 A layer of horse mackerel fall asleep finely chopped green onions and lightly add salt and pepper it and then again grease with mayonnaise. Layer of the onion, it is desirable slightly to pin down that it is well soaked.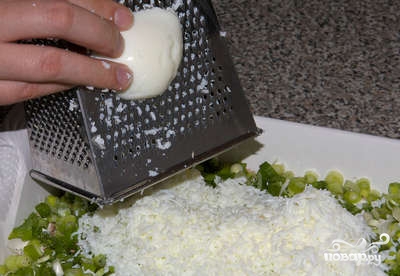 Our green layer of lettuce RUB the yolks from hard-boiled eggs( the yolks will be needed for the top layer).Even out the layer of proteins on the surface of the salad, sprinkle with salt, pepper and grease with mayonnaise.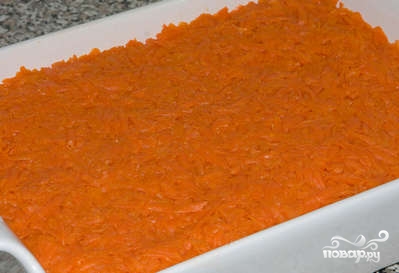 Spread on top of the protein layer is boiled grated carrot. Also salt, pepper and grease.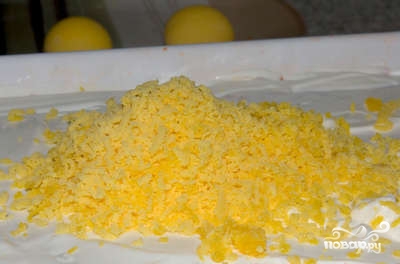 And now it was the turn of the yolks.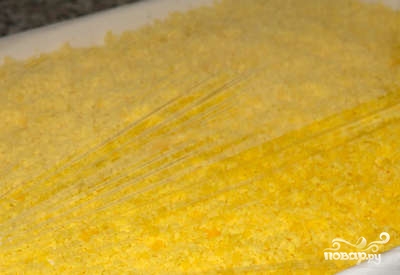 Yolks is the top layer of the salad and make it you need to be as smooth and beautiful. You can grate the yolks on a grater, mash with a fork. And our salad is ready. Now you can upload it in the fridge for at least 3 hours. During this time all layers are saturated and the taste of the salad will be tasty.