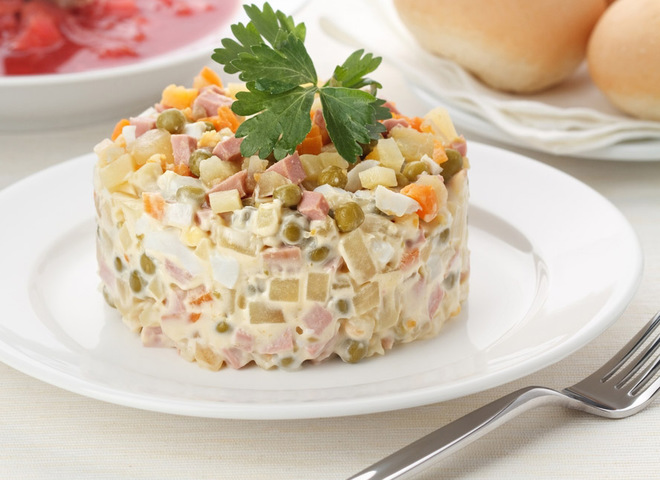 Website to REPLACE YOUR WEBSITE in the New year's eve 2017 is starting to stock up on holiday recipes Christmas dishes with which this family holiday will become much brighter, happier and tastier.
And let's start with the most popular and beloved salad, without which it is simply unthinkable New year holiday.
If you want to New year 2017 to cook a delicious classic salad, you need quality, fresh and preferably homemade ingredients. Cooked sausage if you wish, you can replace boiled chicken breast.
Olivier salad on New year 2017 − ingredients:
for Olivier:
boiled potatoes – 4 pieces,
boiled carrots – 2 pieces,
boiled sausage "doctor" (boiled chicken fillet) – 500 g
hard boiled eggs – 4 pieces,
salted (pickled) cucumbers – 4 pieces,
canned green peas,
mayonnaise,
greens,
salt to taste;
for mayonnaise:
egg yolks − 2 pieces,
olive oil − 130 ml
mustard powder − 0.5 teaspoon,
sugar − 0.5 teaspoon,
salt − 0.5 tsp.
Olivier salad on New year 2017 − preparation:
To prepare mayonnaise, combine all ingredients and whip with a blender.
Boiled potatoes, carrots, eggs, sausage and cucumbers cut small cubes.
With canned peas, drain liquid and add to the salad.
Fill the salad with mayonnaise, salt, mix and put the form or freely in deep or shallow plate.
Put the salad in the fridge for a few hours, so he got soaked.
Serve the salad on the table cold and decorated with greenery.
Bon appetit!
See videorecipe salad with fish: