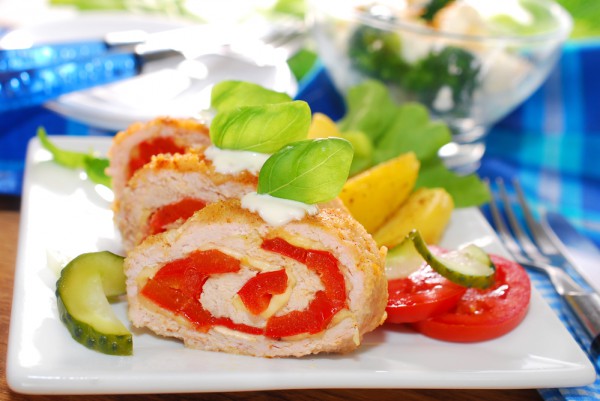 Delicious chicken rolls with cheese and peppers. Serve them with baked potatoes and fresh vegetables.
Ingredients
chicken fillet: 2 PCs
hard cheese: 50 g
Bulgarian pepper: 1/2
pickled jalapenos: 1/2
sour cream: 1 tbsp
adjika: 1 tbsp
vegetable oil: by taste
breadcrumb: by taste
salt, pepper: by taste
Cooking time: 40 min. | Number of servings: 4 servings
1. Chicken fillet wash and dry. Cut each lengthwise into two parts, Bang it on both sides and season with salt.
2. In a bowl, mix sour cream and adjika. Spread each slice of fillet with this mixture.
3. For the filling, mix in a bowl the grated cheese, finely chopped peppers and jalapenos. Mix well and put the stuffing on the fillet.
4. Roll the fillets on the plate, grease with vegetable oil and roll in breadcrumbs. Spread on a baking sheet.
5. Bake in the oven at a temperature of 180 degrees 20-25 minutes.
6. The finished rolls to cool and cut into slices. Serve with baked potatoes and greens.