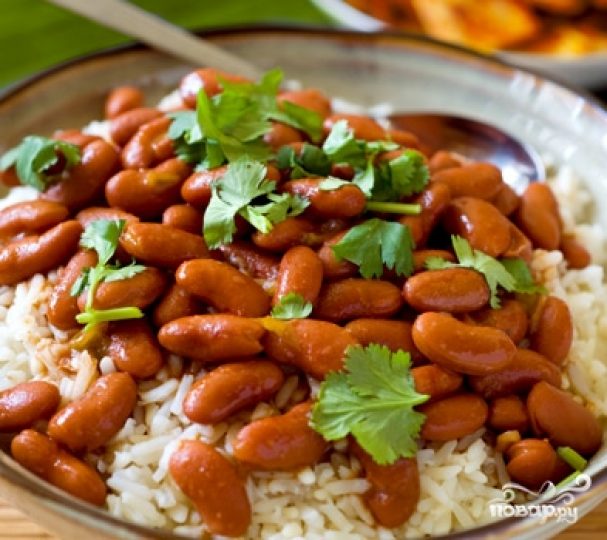 Rice and beans – a dish that can be prepared in minutes. Besides, it was rich and delicious. Great for dinner in working days. You can cook it with "yesterday's" rice.
Description of the preparation:
A rich side dish can be prepared from rice and beans. In this case, you can use any canned or cooked beans. For the beans you can also add bell pepper, tomatoes, your favorite spices to taste. I like spicy beans. With the "faceless" figure, these bright beans blend just fine. The rice for this dish it is important not to digest. It should be crumbly. Therefore, strictly control the step of cooking. So, how to cook rice and beans?1. Onion peel and cut into small cubes.2. Clean the garlic and finely chop with a knife.3. Boil the rice. For this rice, rinse several times, put in a pot. Fill it with water (volume of water should be twice the volume of rice), salt. Bring to the boil and simmer for 15-20 minutes until the rice is tender. Then drain. You can use pre-boiled rice. It will need to warm up.4. In a pan heat the vegetable oil. Fry the onions and garlic until soft.5. Add the chili powder, then tomato sauce, water, beans. Tosite for 10 minutes on medium heat, stirring occasionally.Beans serve with rice, garnished the dish with sprigs of parsley. Bon appetit!
Ingredients:
Beans canned (tin) — 2 Pieces
Rice — 3/4 Cup (Or 3 cups cooked rice)
Onion — 1 Piece
Garlic — 2 Cloves
Vegetable oil — 2 tbsp. spoon
Tomato sauce — 2-3 tbsp. spoons
The water boiled — 1/4 Cup
Chile powder — 1/2 Tea spoon (optional)
salt to taste
Black pepper — – to taste
Parsley — to taste (To decorate)
Number of servings: 3-4