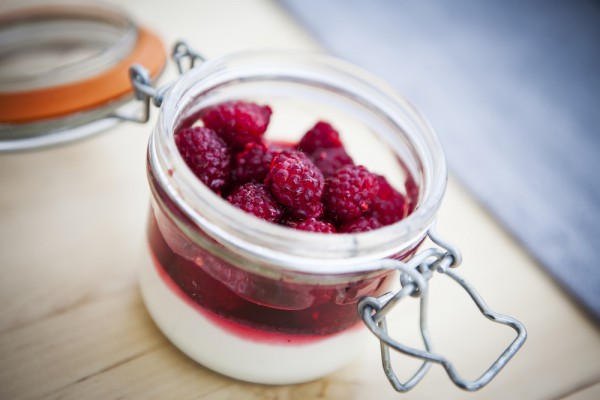 This Italian dessert is perfectly refreshing and vitaminiziruet. Before serving it garnish with mint leaves.
Ingredients
sheet gelatin: 10 g
heavy cream: 400 ml
milk: 200 ml
sugar: 80 g
raspberry: 300 g
For decoration::
raspberry: 250 g
balsamic vinegar: 1 tbsp
powdered sugar: 2 tbsp
Cooking time: more than 180 min. | Number of servings: 3 servings
1. Soak gelatin in cold water for 5-10 minutes.
2. Combine the milk, cream and sugar, bring to a boil. Remove the mixture from the heat and let cool to 70-75 C. Add the squeezed out gelatine, stir until dissolved and allow to cool to room temperature.
3. The raspberries blend them, strain through a sieve and add milk-cream mixture, stir. Pour in molds and put in refrigerator until firm.
4. Half of the raspberries to decorate the mash with a fork, add the powder and balsamic vinegar. Allow to infuse for 1 hour.
5. Spread raspberry puree over the frozen Panna cotta. Then spread the remaining raspberries and sprinkle with sifted powdered sugar.