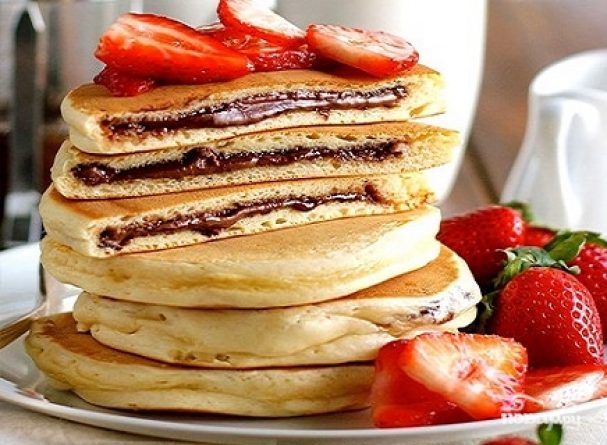 This is the perfect Breakfast for the whole family, as well as a treat for tea. Offer you a simple and very cool version of how to cook pancake with a filling of chocolate paste.
Description of preparation:
1. For a start tell you the secret of the filling. So chocolate paste was easy to work and it is well kept shape, it must first freeze. Use the sheet of parchment, laying spoon a thin layer of small circles. Put in the freezer for 10-15 minutes, and then add another layer on top. The thickness of toothpaste you can choose at will, but each successive layer needs to be frozen for at least 15 minutes. 2. Until the Nutella hardens, you can prepare the dough. In the recipe pancakes with stuffing is quite simple version. In a deep bowl whisk the egg with sugar and salt, add sifted flour and milk. 3. Stir in the baking powder. As should all mix. The batter should be thick, like for pancakes. 4. The pan heat and grease with a brush of melted butter. 5. Spoon the batter into the pan. 6. In the center place a slice of chocolate paste, and the top — again the dough. Make sure that the dough completely covers the filling. 7. Fry over medium heat on both sides until Golden brown. 8. Before serving of pancakes with stuffing in the home can be supplemented with powdered sugar, topping, and berries in taste.
Ingredients:
Flour — 1.5 Cups
Sugar — 3 teaspoons
Salt — 1 Pinch
Baking Powder — 1 Pinch
Egg — 1 Piece
Milk — 200 Ml
Nutella — 8-10 CT. spoons
Butter — 1 teaspoon
Number of servings: 7-9