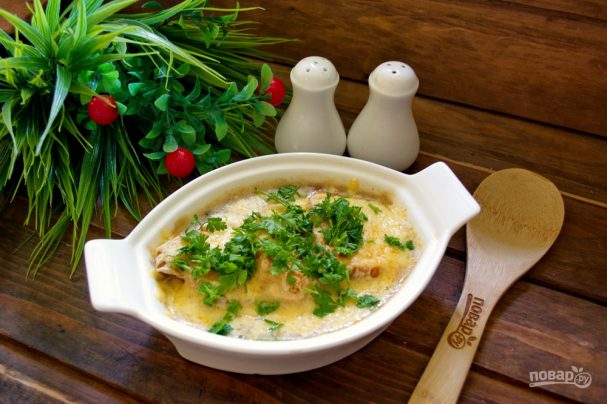 I previously met many times in culinary magazines dish called onion soup, but I thought it was a really cheap way to make something out of nothing. Surprise anyone with a bow? How wrong I was!
Description of preparation:
I was wrong by being skeptical to this dish like onion soup in French. In reality it was very, very tasty. Worth at least once to prepare to be a fan of this dish forever. No wonder French food is highly valued and is considered the founder of Haute cuisine and all dishes. How to cook onion soup in French, you now know.
Ingredients:
Onion — 3 Pieces
Garlic — 3 Cloves
Cream 10% — 200 Ml
Flour — 1 Tbsp. spoon
Chicken or vegetable broth — 1 Cup
Hard cheese — 150 Grams
Butter — 50 Grams
Vegetable oil — 2 tbsp. spoon
Spices and condiments — to taste
Dry white wine or pink — 150 Ml
Baguette — 1 Piece
Servings: 4
Order in the Platypus, beginners profitable!
How to cook "Onion soup in French"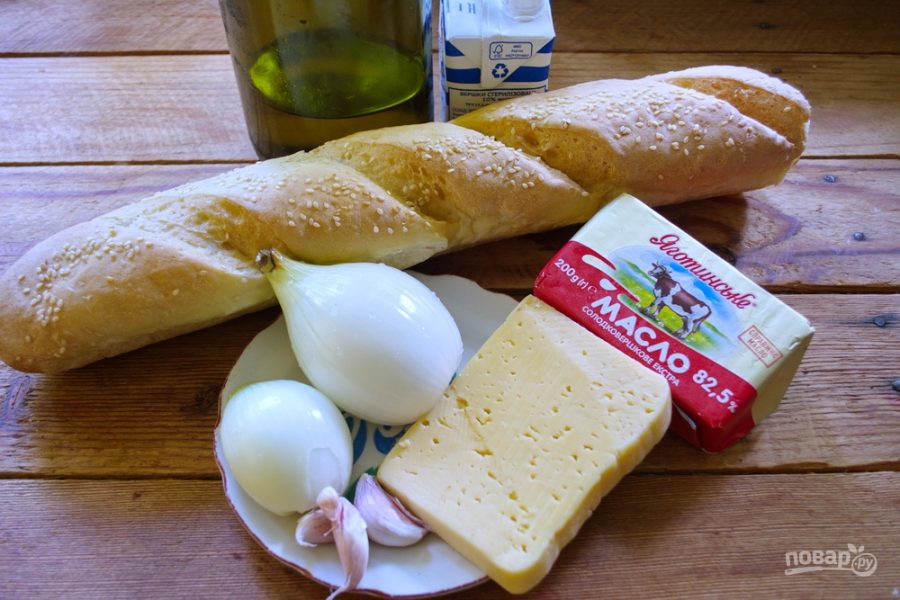 For cooking we need to take onion, cream, dry white wine, wheat flour, spices, garlic, vegetable or beef broth (you can substitute with boiled water), cheese, baguette.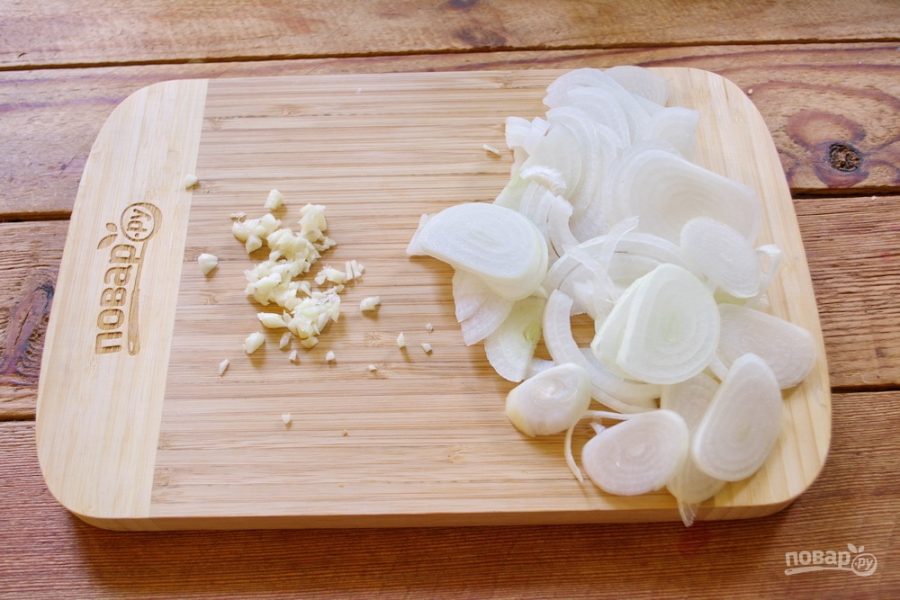 Onions clean and cut into rings or half rings. Cuts need to be large enough. The onion is simmering, caramelize in the pan. Too small pieces of onion will burn. Garlic crush randomly.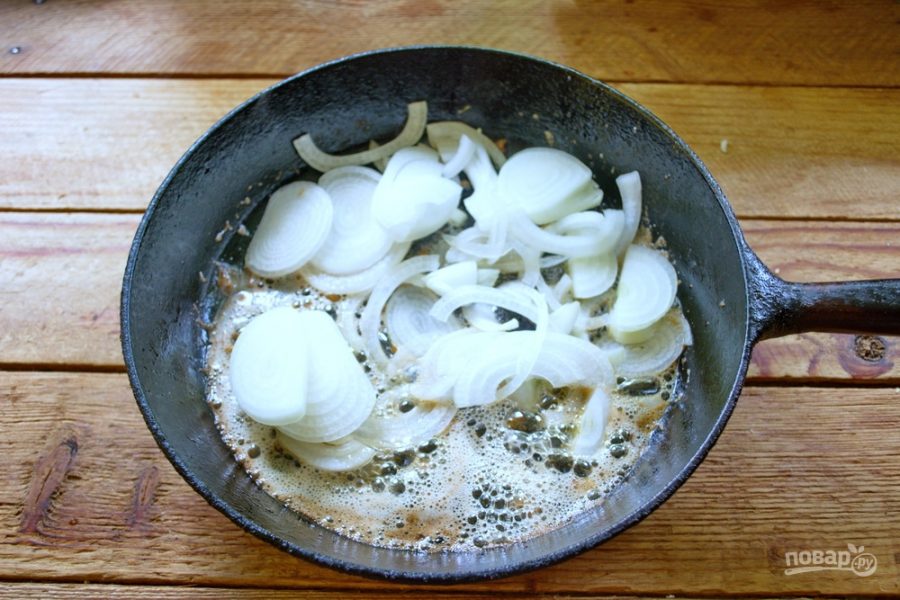 Good heat the pan. In a frying pan place a knob of butter and 2-3 tablespoons of vegetable. When the butter has melted, add the garlic. Lower the heat slightly so that the oil is not burned. Oil eyes melted and slightly change color. Add the chopped onion. Quickly toss it with the garlic and oil and on low heat simmer until soft.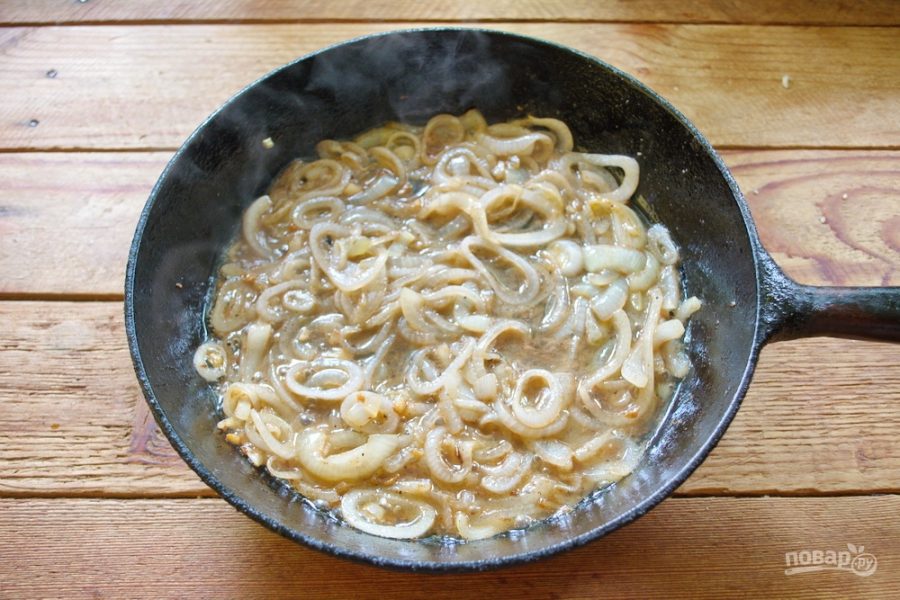 Pour a glass of wine and simmer onions in wine. The alcohol has evaporated and the onions acquire a light wine taste. It is ideal to use a dry white wine. If you have pink, it will work, but you should not use dry red wine. It clearly paints the bow. Red wine is not suitable.

When wine is boiled, in a pan add 1 tbsp. flour without slides. Mix.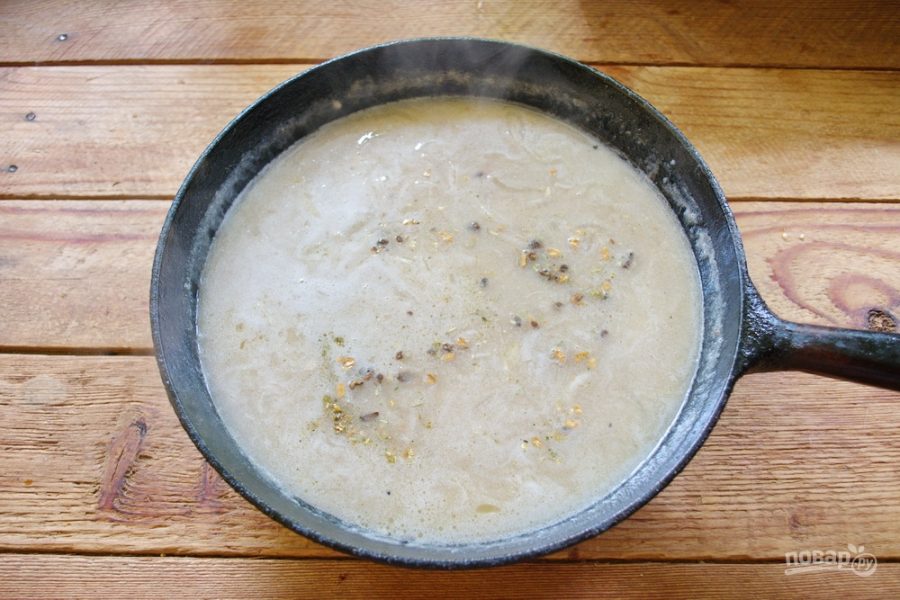 Pour in the broth and stir. At the end pour in the cream and stir again. On slow fire cook the soup in the pan until smooth. At the end of cooking, add spices to taste. I use a set of French spices.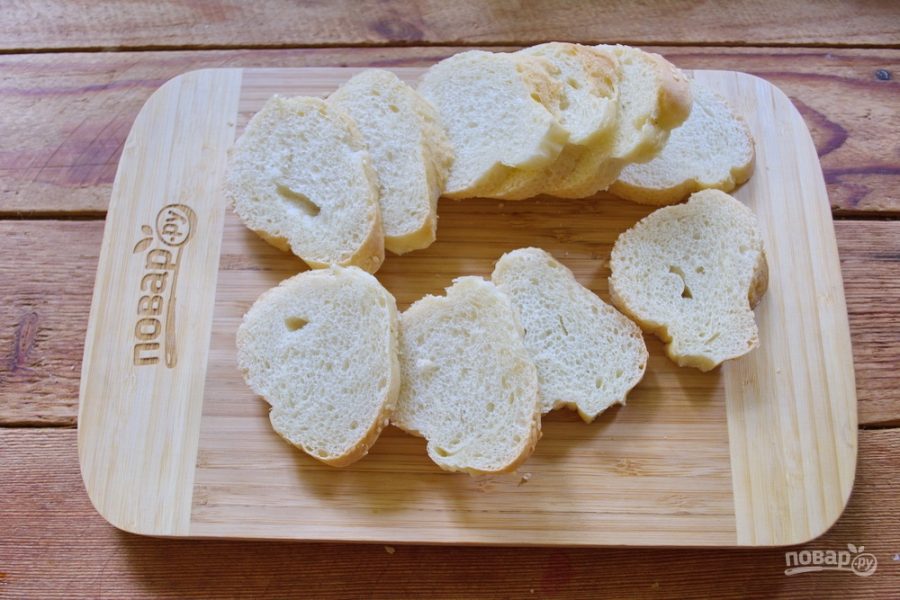 Baguette cut into slices and fry in the oven at 200 degrees for about 5 minutes. Prolonged exposure of the baguette in the oven will make him an outright cracker. We just need a slightly browned piece of baguette.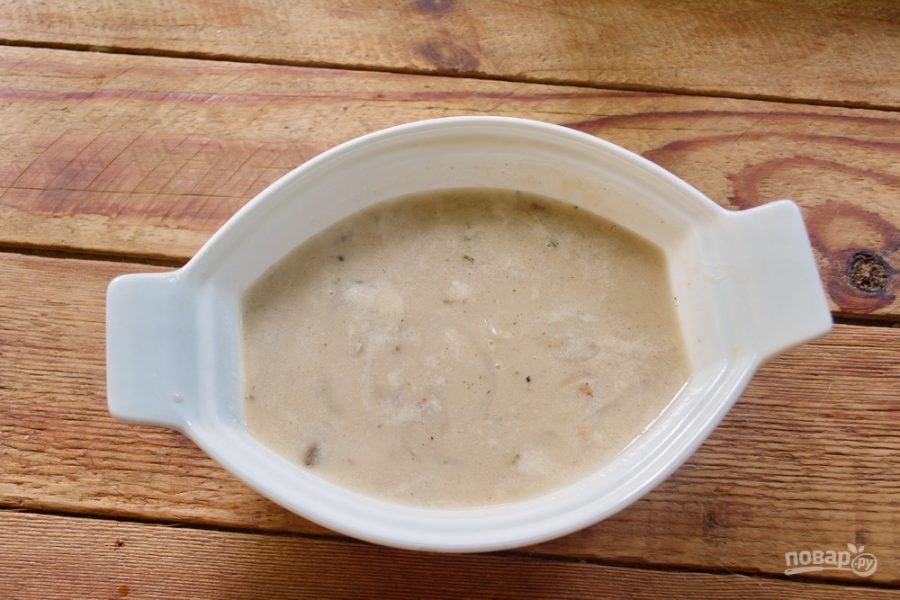 In a baking dish (it may be this ceramic stuff or ceramic pan or just a deep thick-walled ceramic bowl), pour some of the soup.

Grate on a coarse grater cheese.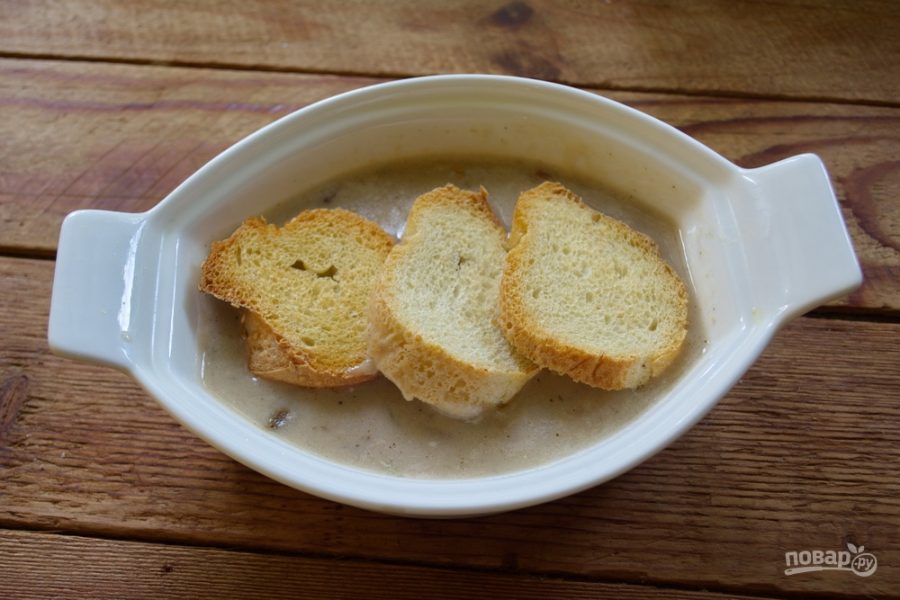 In the form of soup, place toasted bread pieces.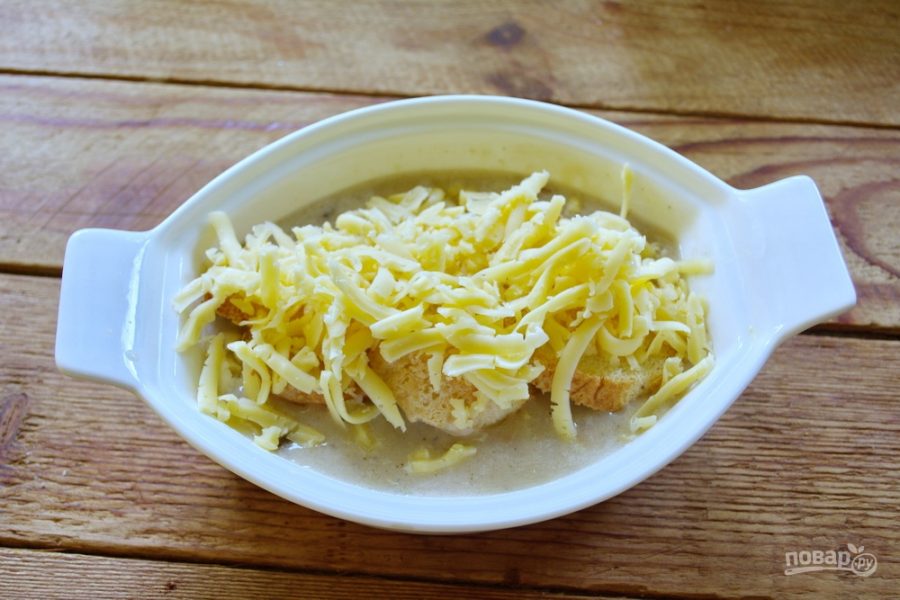 Sprinkle with grated cheese.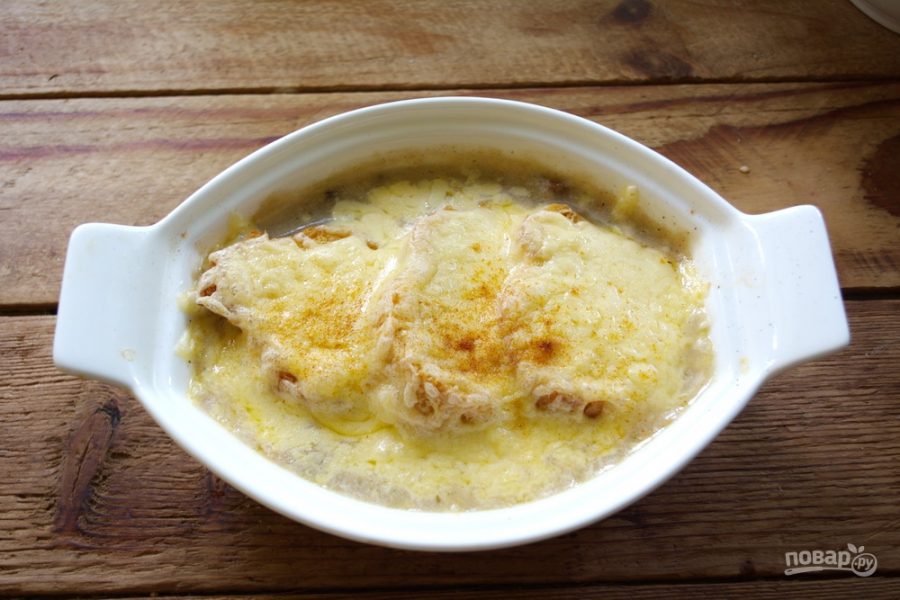 In the oven at 200 degrees and simmer the soup for about 8 minutes. We need to slightly melt the cheese.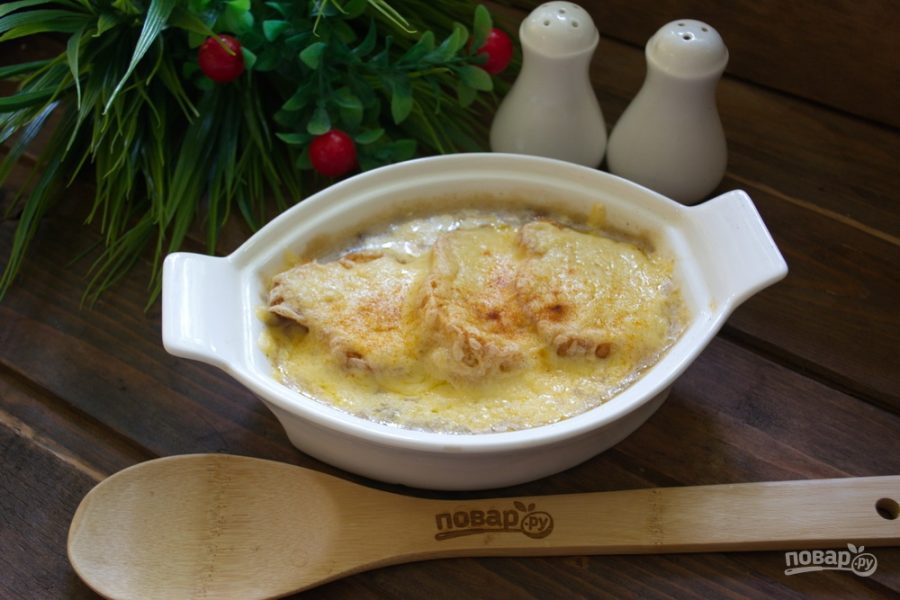 Serve soup to the table. I recommend sprinkle with chopped greens.