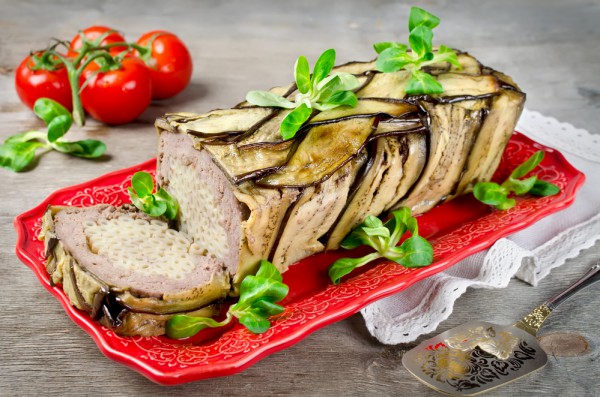 This elegant appetizer is prepared with available ingredients – minced meat, eggplant and pasta.
Ingredients
minced beef: 800 g
the crumb of half a loaf:
milk: 200 ml
salt, pepper: by taste
vegetable oil: by taste
long tubular pasta: 200 g
eggplants: 3 PCs.
Cooking time: 180 min. | Number of servings: 8 servings
1. Boil pasta until tender in salted water. To drain the fluid.
2. Evenly spread the pasta on plastic wrap, wrap well and refrigerate.
3. Pour the crushed breadcrumbs with milk and allow to swell.
4. Mix the crumbs with the minced meat and mince with shallow bars. Season with salt and pepper. Well to beat the stuffing to got out the air bubbles.
5. Evenly distribute the meat on the cooking foil to make a rectangle.
6. To get the pasta out of the fridge and cut them so they were shorter than the meat layer. Lay them on center of meat.
7. Lifting the sides of the film, form into a roll. Well stung seam and the sides.
8. Eggplant wash and cut into very thin strips. To pass it on to the oiled baking sheet, season with salt and pepper. Bake at 180 C for 20 minutes.
9. Grease a rectangular cake pan with vegetable oil. Spread the bottom and sides of roasted eggplant form.
10. Put into a form the roll seam side down and make a few punctures wooden skewer.
11. Cover the roulade on top of roasted eggplant. Bake for 45 minutes, then cover with foil and cook for another half hour.
12. Serve meatloaf warm or chilled.