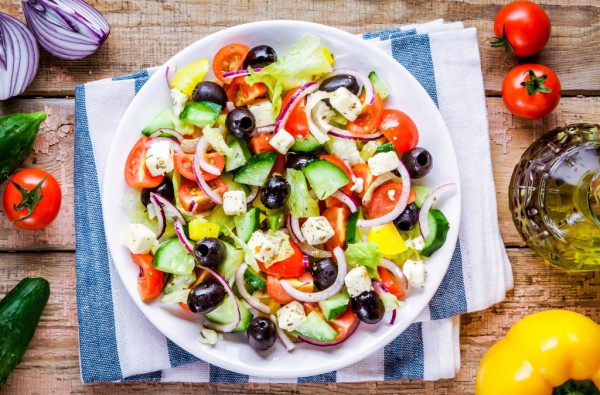 The famous British chef is preparing a Greek salad with the addition of 3 types of tomatoes.
Ingredients
medium ripe tomato: 1 PC.
ripe tomatoes: 200 g
tomato varieties bullish heart, 1 PC.
medium red onions: 1 PC.
cucumber: 1 piece
green pepper: 1 piece
fresh dill: 1 bunch
fresh mint: 1 bunch
black olives, pitted: a handful
sea salt: to taste
red wine vinegar: 1 tbsp
extra virgin olive oil: 3 tbsp
feta cheese: 200 g
oregano: 1 tsp
Prep time: 15 min | servings: 4 servings
1. Cut medium tomato into wedges, cherry tomatoes cut in half. Tomato beef heart cut into large mugs. Place all tomatoes in a large salad bowl.
2. Slice peeled onions in very thin slices and add to the tomatoes. Hold a fork on the sides of the cucumber so that she left deep marks on the skin, and then cut it into thick slices. Pepper, seeded, cut into rings and add to the salad along with the cucumber.
3. Roughly chop the dill and most of the mint leaves. A smaller part of the leave for filing. Add the greens and olives in the salad.
4. Add a pinch of salt, vinegar and olive oil. Quickly stir all by hand.
5. Spread feta on top, sprinkle with oregano mint. Again sprinkle the salad with olive oil and serve immediately.