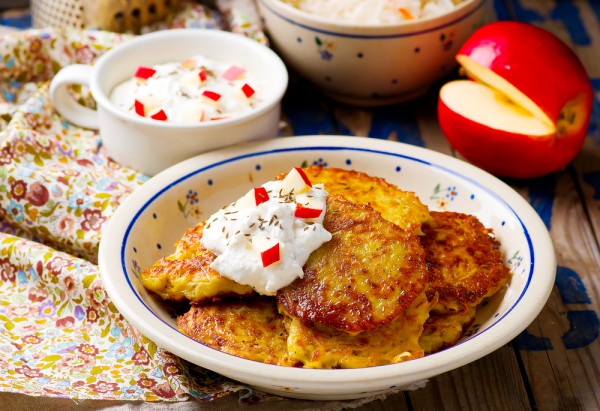 The unusual combination of traditional potato pancakes with Apple-sour cream topping.
Ingredients
potato: 5 PCs
onion : 1 PC.
bollocks: 2 PCs
flour: 3 tbsp.
Sol:
pepper:
big Apple: 1 piece
sour cream: 4 tbsp
cumin: pinch
pepper:
vegetable oil: for frying
Cooking time: 40 min. | Number of servings: 4 servings
1. On a medium grater grate the peeled potatoes.
2. Drop into cold water for 10 minutes, then squeeze excess water.
3. Mix grated potatoes, eggs, finely chopped onion, flour, salt and pepper.
4. Heat over high heat vegetable oil.
5. Spread potato mixture with a large spoon into the pan and lightly pressed.
6. Fry pancakes on each side until browned.
7. Mix the thick cream with finely diced Apple, black pepper and cumin. Serve immediately.