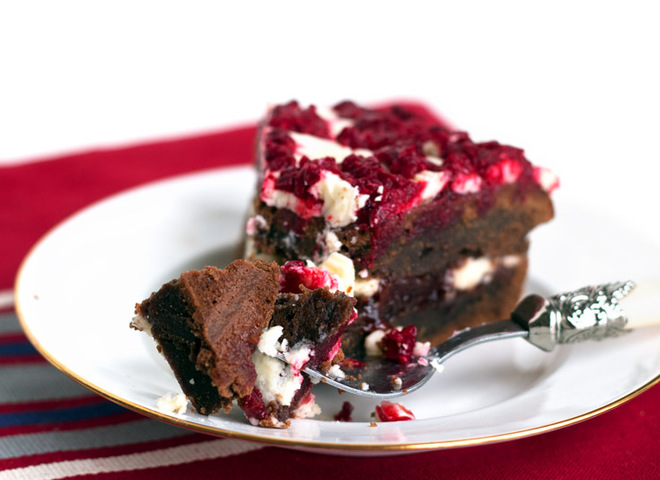 In the summer holiday Day chocolate to REPLACE YOUR WEBSITE offers to cook you a delicious dessert cake with fresh raspberries and dark chocolate.
If you like berries, more chocolate, this homemade cake with raspberries probably more to your liking. He prepares very simple, and the incomparable taste of raspberries combined with black bitter chocolate will fill you with a pleasant feeling of summer romance.
Chocolate cake with raspberries ingredients:
for the cake:
2 cups flour,
220 g sugar
220 g butter,
4 eggs,
2 tablespoons cocoa,
20 g of baking powder,
60 ml of water,
for the filling:
600 g raspberries,
1 liter 35% cream
50 g of powdered sugar,
vanillin at the tip of a knife,
for the glaze:
300 g dark chocolate,
300 ml 35% cream.
Chocolate cake with raspberries cooking
Pour the cocoa powder with hot water, stir and let cool slightly.
In a bowl, mash the eggs with the sugar, add the butter and dissolved cocoa, sifted flour with baking powder and whip the batter with a mixer until smooth.
Put the dough in a baking pan, greased and send in a preheated 180°C oven for 50-60 minutes. Readiness check cake with a toothpick – it should remain dry.
After complete cooling, take the cake out of shape. Carefully cut it horizontally into three parts.
Prepare the icing for the cake with raspberries. For this cream, bring to a state of boiling, but not boil. Take off the cream from the fire, add to them the broken pieces of the chocolate and carefully stir until it dissolves. Leave the frosting to cool and thickens.
Climb raspberries, rinse and let drain.
Whip cream with powdered sugar and vanilla in persistent foam.
Lower Korzh grease cream and put a layer of raspberries. On top put the middle cake layer and also smear it with cream and put the berries. Cover the top cake. The top and sides brush pie with raspberries chocolate glaze. Decorate with berries raspberries.
Bon appetit!
READ ALSO:
Pie with black currant
Strawberry pie: make bright the dessert with fresh berries
See videorecipe mint cake with raspberries and strawberries: